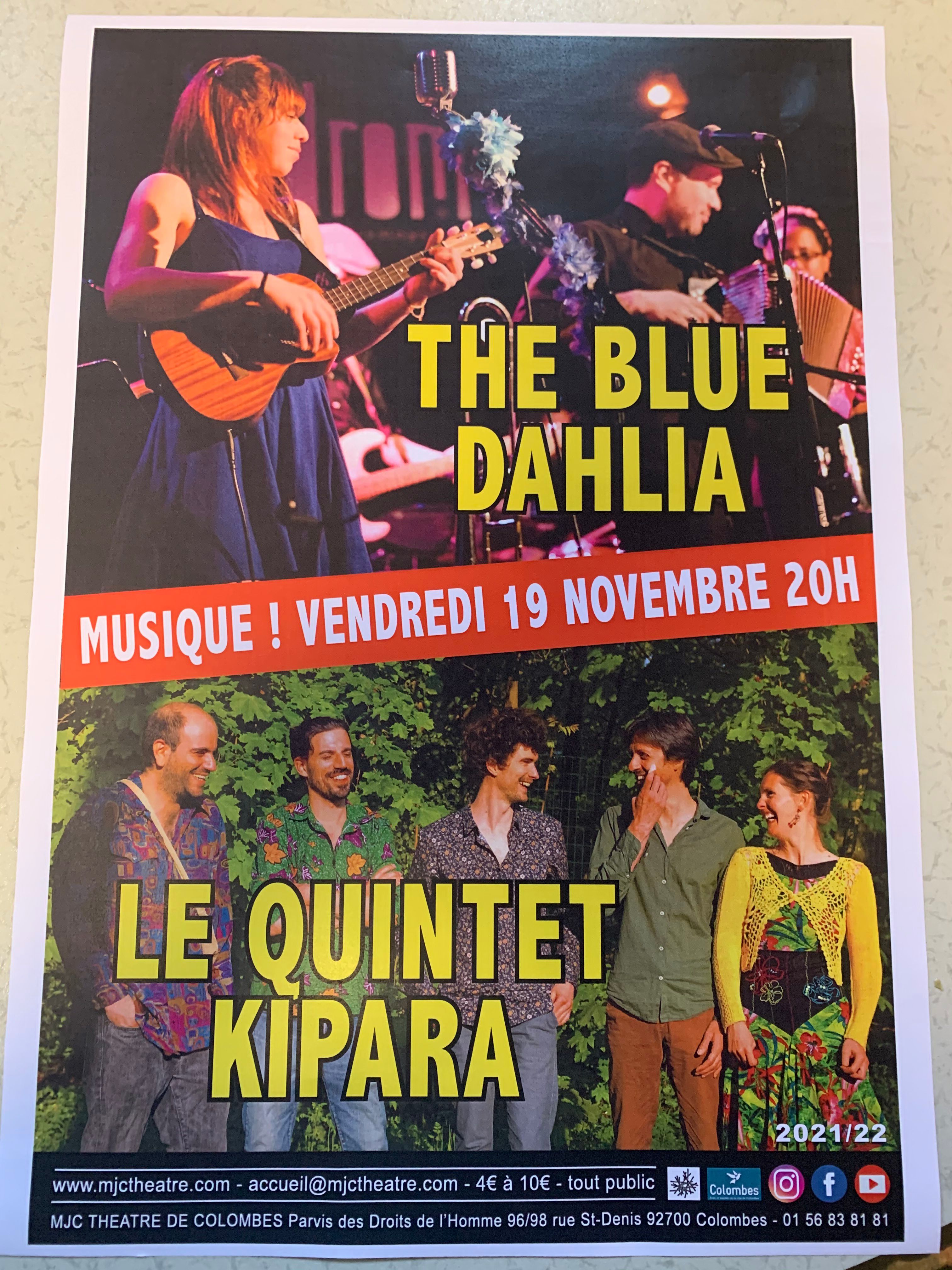 Grand concert à Colombes (92) demain, vendredi 19 novembre ! 
Salut à tous et bienvenue aux nouveaux amis qui viennent de rejoindre le mailing list de The Blue Dahlia ! J'espère que vous allez tous merveilleusement. :) 
Pour rappel pour ceux d'entre vous qui nous suivent depuis un moment, demain, vendredi 19 novembre, The Blue Dahlia fait un grand concert à Colombes (92). 
Les détails : 
The Blue Dahlia (grooves éclectiques du monde et la folk franco-américaine) 
avec 
KIPARA (chansons et grooves colombiens et afro-caribéens) 
live à la 
(dans le théâtre !) 
96-98 Rue Saint-Denis, 92700 Colombes 
20h pile ! 
Billets (4€ - 10€) & Réservations ici : accueil@mjctheatre.com
~~~~~~~~~~~~~
Ce sera un grand bazar d'amis, de musique et de langues de différents coins du monde. Si vous êtes dans le coin, venez, ou faites passer le mot à vos amis qui y sont ! 
~~~~~~~~~~~~~~~~~~~~~~~~ 
Et… que vous puissiez ou non venir cette fois, rappelez-vous que tous nos événements, que ce soit en France, aux États-Unis ou ailleurs sont répertoriés 1. sur notre site Web, 2. notre page Facebook, 3. et sur Bandsintown ! 
***Par exemple, notre prochaine tournée aux États-Unis suivie d'une tournée dans les Alpes en janvier, plus quelques autres concerts autour de Paris d'ici là !***
~~~~~~~~~
Merci à vous toujours de nous soutenir et pour votre soutien du spectacle vivant ! 
Amitiés,
Dahlia <3