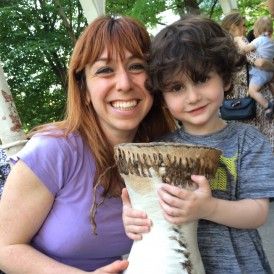 We Promote
THE FREEDOM AND JOY OF SELF-EXPRESSION THROUGH MUSIC AND TEXT 
THE SELF-CONFIDENCE EARNED BY EXPLORING YOUR CREATIVITY AND PRESENTING YOUR CREATIONS TO AUDIENCES 
THE SKILLS NEEDED TO CREATE, PRESENT AND PROMOTE YOUR WORK ON A GLOBAL STAGE 
THE CURIOSITY, AWARENESS AND RESPECT OF DIVERSE CULTURES AND THEIR MUSICAL TRADITIONS
THE SOLIDARITY FORMED AMONGST PEERS AND COMMUNITIES VIA THIS MULT-STYLE, MULTICULTURAL EXCHANGE OF MUSIC
...through the following workshops (for all ages):
* Songwriting (in French and in English)    * Composing    * Arranging    * Improvisation   
* French and Francophone 'chanson' traditions, classic and contemporary, with its influences from beyond France (see more information below)   
* Klezmer and Trad Jazz violin    * French, Mexican, Tejano, Argentinian, Klezmer and Balkan accordion    * Blues, soul, jazz, swing, salsa, reggae, classical and pop-rock PIANO and KEYS    * World rhythms with CAJON, DRUM kit and various PERCUSSIONS
* SINGING (in French, English and Spanish)    * Singing in HARMONIES   * Beginner UKULELE    * Chords and melody on ACCORDION, VIOLIN, BASS, GUITAR, GUITARRÓN, JARANA, VIHUELA, TROMBONE   
* Band-leading    * Independent, international booking and touring    
* Early world music discovery 
Workshop chanson française and la Francophonie :
We explore different styles, traditions and influences of French and Francophone "chanson," classical and contemporary, via various well and less well-known artists (Piaf, Brassens, Renaud, Gainsbourg, Frehel, Ferrat, Fersen, Mano Solo, Tiken Jah Fakoly, Alpha Blondy, les Marins d'Iroise, Stromae, ZAZ, Grands Corps Malade, Nougaro, and others). We work on different styles: la chanson réaliste (from the turn of the century, based off of literary realism and the naturalist movements in literature and theatre, and dealt with the lives of Paris's poor and working-class, mostly performed by women), la chanson paillarde (folk songs of a sexual nature, openly transgressive, aimed at shocking decorum by violating the taboos which prevail in everyday life), the songs of Graeme Allwright (songs of popular North Americain singer-songwriters, such as Bob Dylan and Leonard Cohen, re-interpreted into French), traditional French nursery rhymes, politically-charged reggae from West Africa, socially-charged urban spoken-word, and the swinging texts of jazz manouche.
In addition, we focus on the differences between French and English intonation, prononciation, enunciation, rhythm and cultural interpretation of the two languages through song. 
Finally, we do singing exercises to sing some of these ourselves and to each other! 
NYC-based multi-instrumentalist, arranger and composer, George Saenz, plays accordion, trombone, piano and guitar for The Blue Dahlia North American shows. He is also the trombonist and accordionist for renowned Mexican folk artist LILA DOWNS, and the musical director of the Calpulli Mexican Dance Company. 
NYC-based violinist Zoe Aqua is the founding music teacher at Family Life Academy Charter School II, located in the South Bronx, and conducts workshops for all ages at Klezkanada, the New York Klezmer Series, Yiddish New York, and Isabella Freedman Jewish Retreat Center.
Zoe performs in multiple ensembles, and specializes in Klezmer music. She has performed on BROADWAY's Klezmer production INDECENT.
Other accompanying musicians - members of The Blue Dahlia family available for workshops:
USA: bassist Yoshiki Yamada, drummers and percussionists Joshua Castillo, Karina Colis and Lautaro Burgos, trumpetist Jackie Coleman, saxophonist Berta Moreno, violinist Elena Moon Park.
FRANCE: Accordionist and pianist Marc Bizzini, bassist and percussionist Rafael Leroy, violinist Lucy Southern, guitarist and bassist Benjamin Chabert, drummers Richard Cailleux and Lenny Barouk, and singer-songwriter Pauline Paris.